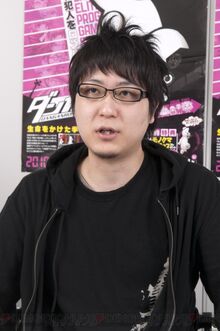 Ryohgo Narita (成田 良悟 Narita Ryōgo) is the author and creator of the Baccano! light novel series. Other light novel series Narita has authored include Durarara!!, Etsusa Bridge, Vamp!, and Center of the World, Hariyama-san.
Narita was born in Tokyo on May 30, 1980, and grew up in Saitama.[1] At university, he majored in satellite image analysis. He wrote his first novel during spring break between his third and fourth year at university and submitted it to the 9th Dengeki Novel Prize competition, tying for the Gold Prize. [2]
In the mid-2000s, he used to share news and trivia about his fictional works alongside other content on a personal website until he eventually migrated to Twitter. However, some of the website's contents are still accessible via the Wayback Machine.
References
Edit