The Dolce Restaurant is a diner in Chicago featured in the 1934 arc. Sham, acting as Ricardo Russo, a member of Jacuzzi's Gang and a Lamia informant simultaneously, lures Graham Specter, Jacuzzi Splot, Christopher Shouldered, Sickle, and the Poet to Dolce in December 1934 for a confrontation in order to get everybody to team up to take on Nebula.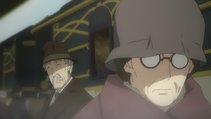 Dolce is owned by a certain elderly couple -- the same elderly couple who decided not to board the
Flying Pussyfoot
(they wanted to go to the springs) on
December 30, 1931
after the wife had a bad feeling (premonition) about the train. While they were debating what to do on the platform, a man named
Elmer C. Albatross
approached them (having overheard their discussion) and bought their tickets off them since he wanted to board the train. Thus, the couple had their money refunded, and Elmer had his own wish fulfilled in turn.
Ad blocker interference detected!
Wikia is a free-to-use site that makes money from advertising. We have a modified experience for viewers using ad blockers

Wikia is not accessible if you've made further modifications. Remove the custom ad blocker rule(s) and the page will load as expected.