Christopher Chareau de Red (クリストファー・シャルドレード, Kurisutofā Sharudorēdo) (also romanized as Christopher Shouldered) is a homunculus and part of the Lamia, one of several factions under Huey Laforet's control.
Christopher becomes Ricardo Russo's friend and bodyguard in 1933 following his defeat in a fight against Claire Stanfield, which left him in shock and unable to kill others.
It's been hinted that he's still alive in the 2002 storyline.
Appearance
Edit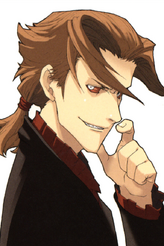 Christopher is described to have a terrifying appearance, one that could be easily seen as the face of the monster. His sclera is crimson red, his irises are white and his pupils as 'dark as night.' He keeps his brown-red hair pulled back, and wears archaic red and black clothes; stiff, cumbersome clothing that would not look out on place on centuries-old European nobles.
His teeth have all been replaced by sharp, pointy ones, giving him a terrifying smile.
Out of the Lamia, it can be said that Christopher looks most like a vampire, staying true to their group's namesake.
Personality
Edit
Firo has said that Christopher is similar to Claire in personality - that they are similarly eccentric while carrying out gruesome deeds. In Chris' case, he is extremely theatrical - breaking out into song even when he is in the midst of slitting someone's throat. While even his team members call him insane, they still grudgingly respect him as the Lamia's figurehead leader. He's one of the more wildcard pawns under Huey's influence.
Christopher while being the one furthest away from nature in the group of homunculi in terms of appearance, loves and yearns to be with nature the most, entranced and often distracted by it. His love for nature stems from a deep insecurity over his own 'unnaturalness' - how he is an ultimately artificial being, created in a lab, and that no matter how much he wants to be natural (that is, normal), he can never be natural. Despite this want, he rejects the norm of society for fear of others' disapproval - so he distances himself so as not to be hurt.
Chris has a twisted regard for friendship. He made friends with Firo but has no problems with killing him, and has said that he would kill his own friends for the sake of Huey. However, he yearns for friends keenly, and has stated that he wants to have a thousand friends.
Chronology
Edit
Pre-1933 Edit
Christopher was created sometime in the early 1880s (see Trivia) in the laboratory of Huey Laforet. At some point in the ensuing years, he got into a fight with a man named after a river, who broke all of Christopher's original teeth. His replacement teeth were razor sharp. The second black mark on Christopher's record occurred in the early 1890s (around 1893).
Christopher and the Lamia are hired by a detective working undercover in the Russo Family to take out a certain man and make the death look unsuspicious in September 1933. He and the others show up during a drug deal between the Russos and an Asian crime family in a warehouse near Lake Michigan, where the target and the detective are both present. Christopher crouches down by a single flower, admiring it so loudly that the mafia members take notice -- and consequently attempt to silence him. He, Hong Chi-Mei, and Leeza Laforet promptly take out every single one of the men present, save for the detective.
The detective is horrified at what has happened, and the Lamia reveal that they knew the real reasons for him hiring them beforehand. They exit the warehouse, leaving the detective in the hands of the newly arrived mafia members.
Christopher and Chi board a boat and set off across Lake Michigan, and Leeza, hidden from view, informs them that Huey wants them to take the train tomorrow to New York and help out Tim. Christopher is excited at the prospect of their first 'real' job in months.
They arrive in New York a day early, so Christopher decides to stroll the city in search of friends. In doing so, he bumps into Firo Prochainezo, running frantically through the rain. Christopher is strangely impressed by him, and offers Firo his umbrella. Firo explains his situation to him, and Christopher offers to help him out. Firo reluctantly agrees.
Later, the Lamia stays at Firo's flat with Firo and Czeslaw Meyer. The next day, Firo and the Lamia head towards the Mist Wall, where Firo separates from the others and heads up to the top floor Babel restaurant first.
Christopher takes the elevator up and steps into the restaurant, where Firo has just made a fool of Dallas Genoard. There, he massacres all the Nebula employees in his sight until Donny briefly stops him, and Adele breaks their fight up.
After a brief discussion with Firo, the elevator door chimes and Christopher throws a knife at it, only to be surprised when Claire steps out and deflects his throws. After Claire defeats Adele, Christopher prepares to attack him -- only to be shocked alongside everyone else when the Nebula employees come back to life.
Chi finally arrives, calling out for the Lamia to retreat. Tim decides to take Christopher off the mission, but he decides that since it's now his 'free time', he'll spend it taking care of Claire personally. Claire thinks this makes sense, and the two of them exit the restaurant via window and take their fight to the roof.
(To be continued)
Abilities
Edit
(Under revision)
Ryohgo Narita named him after the actor Christopher Walken.
His date of creation is estimated to be in the early 1880s (around 1883/4) based on his remark to Felix Walken that he's "been doing this ever since I was created, nearly five decades ago" in 1933: (Last) The Slash ~Bloody to Fair~. Earlier in the novel, he recalls that the previous 'black mark' on his record occurred four decades ago (early 1890s), and that the incident with the man named after a river occurred before then.
He likes sweet food.
Ad blocker interference detected!
Wikia is a free-to-use site that makes money from advertising. We have a modified experience for viewers using ad blockers

Wikia is not accessible if you've made further modifications. Remove the custom ad blocker rule(s) and the page will load as expected.