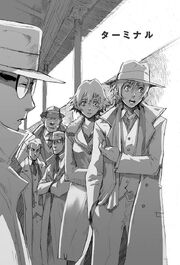 Previous Chapter - Local: The Man Who Wouldn't Cry
It is 2:00 PM on December 31, 1931. Over at Pennsylvania Station, Berga Gandor is quite irritated that the Flying Pussyfoot is two hours late. The Gandor brothers then briefly discuss the personalities of the people they are picking up along with Firo Prochainezo, Ennis, and Maiza Avaro.
The Flying Pussyfoot - or at least, the train that has replaced it - finally arrives at the station. Maiza ends up revealing to his companions that the terrorist Huey Laforet is actually an immortal. The group watches the passengers disembark, including a woman in coveralls (whom Ennis initially thinks might be her companions' friend Claire Stanfield), a Grey Magician (whom the Gandor brothers think might be Maiza's immortal friend that he's come to pick up); and Jacuzzi Splot and his gang.
Jacuzzi wonders about Ladd Russo, Isaac Dian and Miria Harvent, Czeslaw Meyer, and the red monster (who Jacuzzi realizes was actually just a person in red clothing).
Cultural References
Edit
Characters in Order of Appearance
Edit
Ad blocker interference detected!
Wikia is a free-to-use site that makes money from advertising. We have a modified experience for viewers using ad blockers

Wikia is not accessible if you've made further modifications. Remove the custom ad blocker rule(s) and the page will load as expected.