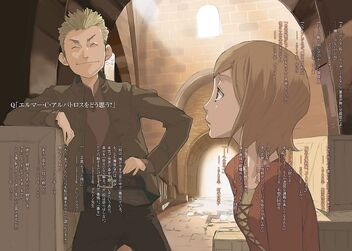 Previous Chapter -
Question: What do you think of Huey Laforet?
Next Chapter - Question: What do you think of Esperanza C. Boroñal?
Lotto Valentinians and immortals offer their opinions of Elmer C. Albatross.
Cultural References
Edit
Characters in Order of Appearance
Edit
Zankuro
Dalton
"He is. . . a friend. Simply a friend; no more, no less. Of course, I'd be too embarrassed to say it to his face." - Huey Laforet
Ad blocker interference detected!
Wikia is a free-to-use site that makes money from advertising. We have a modified experience for viewers using ad blockers

Wikia is not accessible if you've made further modifications. Remove the custom ad blocker rule(s) and the page will load as expected.